Step Teachers is a Tuition Provider for the National Tutoring Programme (NTP) and will provide additional support to schools to help pupils whose education has been impacted by school disruption due to the Covid-19 pandemic.
What types of schools can we work with?
We work with Primary and Secondary mainstream, Alternative Provision, and SEND schools.
What subject do we offer?
For Primary Schools, we offer tutoring for Literacy, Numeracy, and Science and for Secondary Schools we cover from KS3 to KS4: English, Maths, Science, Modern Foreign Languages and Humanities
Our Prices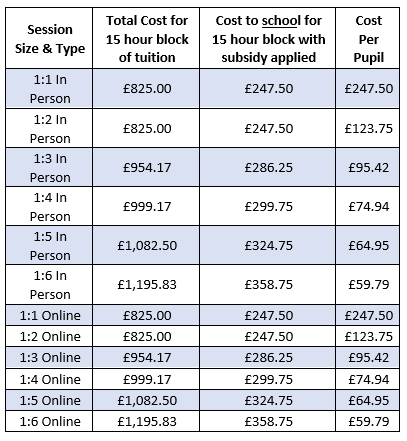 ​*All prices are shown excluding VAT.
The programme is heavily subsidised so you will only ever pay 30% of the full total cost. This means a 15-hour block of 1:3 tutoring will cost you just £6.36 per pupil, per hour.
How will the sessions be delivered?
Sessions are provided either In-Person or Online in sizes of 1:1, 1:2 or 1:3
Who are our tutors?
Most of our tutors hold QTS with experience working in different types of schools. We also have Newly Qualified Teachers (NQT), High Level Teaching Assistants (HLTAs) and, SEN Specialists, and Graduate Cover Supervisors.
How do we recruit our tutors?
We take safeguarding very seriously and our vetting and recruitment procedures are second to none. We adhere to the requirements placed upon us by the DfE's Keeping Children Safe in Education and Working Together to Safeguarding Children.
The following checks and procedures are carried out for all our candidates prior to them being placed into any school. These are repeated during service on a continuous basis.
Pre-screening call

Application Form

Face-To-Face Interview

Right to Work Checks

References and career history check

Disclosure and Barring Service (DBS) Check

Update Service Check

Overseas Police Check (if applicable)

Qualification check

Teacher Regulation Agency (TRA) check

Must read and sign the DfE Keeping Children Safe in Education Statutory guidance for schools and colleges
How will we communicate with you?
You will be assigned a Recruitment Consultant who will help you find the tutor that's just right for you. On top of that you will have a Tuition Manager who will be managing the regular communication between you and the tutor, plus provide you with training to our tutoring portal 'Venture'. Both the Recruitment Consultant and Tuition Manager are contactable on their direct numbers or on their out of office mobile phones.
How will we keep track of pupil progress?
Using our tutoring portal 'Venture' you will be able to see feedback from the tutor after each session in real-time. All assessments will be uploaded to Venture, and you will have direct communication with the tutor. Allowing you to give feedback on the pupil's classroom progress as well.
To track the pupil's progress, we will ask you to complete the initial assessment and the tutor will complete the midway and final assessments.
Don't worry about figuring out how to use Venture, the Tuition Manager will train you on how to use it.
Why Step Teachers?
Established in 2000 by two teachers, we are responsible for placing over 80,000 teachers and support staff in 2,400 schools. We provide high-quality tutors and set them up to provide students a flexible learning experience to help them achieve their potential.
Our desire to achieve results is matched only by our commitment to safeguarding, our onboarding programme is administered by our award-winning Compliance Team - holders of the REC's Education Audit – the Gold Standard for Recruitment and Vetting Best Practice and the first to achieve 100% in the REC's Online Diagnostic test.
​
If you're interested in taking up the opportunity to access subsidised tuition sessions, then get in touch with our Account Managers by using the button below.