Introduction
This past weekend marked an extraordinary adventure, filled with unforgettable moments and shared with incredible individuals including Angela and Kim whom I trained with. The Three Peaks Challenge proved to be a test of strength, determination, and camaraderie. Reflecting upon the experience now, I am truly humbled by the mental fortitude required to push through every obstacle we encountered. Join me as I recount the highs and lows of this arduous journey, the physical and emotional challenges faced, and the overwhelming sense of accomplishment that followed.
Scaling New Heights
From the very beginning, I knew the Three Peaks Challenge would push my limits. As we ascended, my breath grew short on the steep sections. Despite all the training on flat terrain, nothing could fully prepare me for the demanding inclines. Reaching the summit of Nevis, I was overcome with emotion and disbelief at what we had achieved. The first mountain conquered! However, the descent posed its own set of challenges.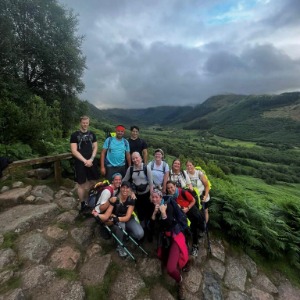 Battling Fatigue
My thighs and knees bore the brunt of the demanding descent. Each step downhill felt like an immense struggle, with my knees threatening to give way. The fatigue was overwhelming, and at times, my legs felt like jelly. As I descended, the intensity of the physical exertion became evident, leaving me drenched in sweat. I must have wrung out three buckets from my headband alone.
A Race Against Time
Our journey was not just a personal triumph but also a test of endurance against the clock. From start to finish, it took us 29 hours, 39 minutes, and 43 seconds. Although technically not within the 24-hour mark, the experience was no less significant. Each mountain presented its own climbing time: Nevis took 6 hours, 6 minutes, and 25 seconds; Scarfell, 4 hours, 8 minutes, and 55 seconds; and Snowdon, 5 hours, 41 minutes, and 43 seconds. Including breaks, our total climbing time was 15 hours, 56 minutes, and 23 seconds. We spent a cumulative walking time of 12 hours, 7 minutes, and 5 seconds on the mountains.
​
Recovery and Gratitude
The physical toll of this challenge cannot be underestimated. It has taken me a full 24 hours just to regain enough strength to share this post. However, amidst the exhaustion, the outpouring of support and encouragement we received during the climb has been overwhelming. I am immensely grateful for every message and donation we received.
Acknowledgments
None of this would have been possible without the unwavering support of our guide, Orange John, who tirelessly guided us throughout the journey. I am also deeply indebted to Phil, Greg, and Dave, who joined me in conquering each mountain. Special thanks go to Lewis, our driver, whose perfectly curated playlist kept our spirits high. I hope we made you proud, Lewis!
Making a Difference
One of the most rewarding aspects of this challenge is knowing that the generous donations we received will support PAPYRUS Prevention of Young Suicide. The funds raised will contribute to their crucial efforts in promoting awareness, providing helplines, and offering assistance to those in need. The knowledge that we have contributed to such a worthy cause makes every step and struggle worthwhile.
Looking Ahead
As I reflect on this extraordinary achievement, I am reminded of the power of setting goals and pushing oneself beyond perceived limits. While my journey may have ended with the Three Peaks Challenge, there are undoubtedly more mountains to climb in the future. Who knows, perhaps I'll take on the challenge again next year, inspired by Ollie's (my Son's) recent football tournament victory.
The Three Peaks Challenge has been a transformational experience—one that has tested my physical and mental resilience in ways I never thought possible. Through the support of incredible individuals, the triumphs and tribulations have become cherished memories. As we continue to raise funds for PAPYRUS, let us remember that our collective efforts can make a lasting impact. If you would like to contribute, donations can still be made on our Just Giving page until July 30th: https://www.justgiving.com/fundraising/alex-molina. Together, we can create a brighter future and uplift those in need.