​On Sunday 2nd April 2023, Harry, a Primary school consultant working in our Barnet head office, took on the challenge of running the London Landmarks Half Marathon to raise funds for Papyrus, a national charity for the Prevention of Young Suicide and this year's Step Teachers charity of the year.
Harry didn't expect the start line to be as busy as it was, but over 10,000 hyped people attended to take on the 13 mile run that snakes its way through iconic landmarks across the City of London and the City of Westminster.
The atmosphere was electric as thousands of runners set off, all with their own personal motivations.
For Harry, every step was an opportunity to raise awareness for Papyrus and the vital work they do to prevent young suicide. As a consultant who liaises with Primary schools across London, he was acutely aware of the challenges facing young people today, particularly in the wake of the COVID-19 pandemic.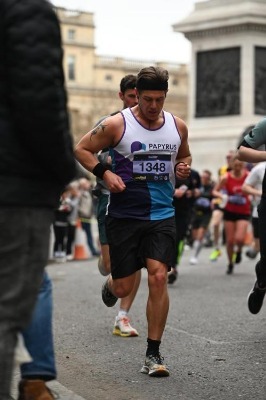 Despite the physical and mental challenges he faced along the way, Harry remained focused and determined, drawing inspiration from the many people cheering him on from the sidelines. With each passing mile, he felt a sense of accomplishment and pride, knowing that he was making a difference in the lives of others.
Finally, after 1 hour, 44 minutes, and 32 seconds, Harry crossed the finish line, exhausted but elated. He had achieved his goal of completing the London Landmarks Half Marathon and had raised over £700 for Papyrus in the process.
Reflecting on his experience, Harry felt a sense of gratitude for the opportunity to support such an important cause. He knew that his efforts, along with those of countless others, would help to make a positive difference in the lives of young people across the country.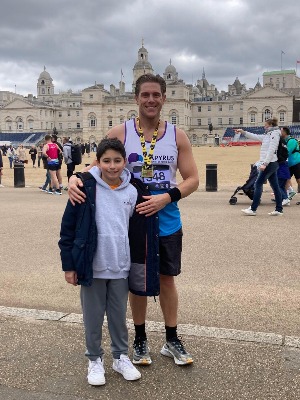 Harry's story is a testament to the power of determination and the importance of supporting charitable causes. By running the London Landmarks Half Marathon and raising funds for Papyrus, he demonstrated the impact that one person can have on the lives of others. A believe he takes to his desk each morning as schools across London phone in to secure help for competent and reliable supply teachers and support staff.
You can still show your support for Harry by clicking through to his Just Giving page.
Well Done Harry, you should be very proud!